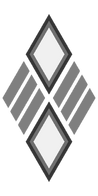 The Diamond Stripes is a symbol found all over the planet Earth. It appears on buildings and even in the Galactic Empire Symbol in a truncated form. It consists of two white rhomboids with gray borders. The Diamonds are trailed in opposite directions by six gray parallelograms, three on either side.
Ad blocker interference detected!
Wikia is a free-to-use site that makes money from advertising. We have a modified experience for viewers using ad blockers

Wikia is not accessible if you've made further modifications. Remove the custom ad blocker rule(s) and the page will load as expected.